Sand, sea & sun
a perfect combination for a perfect holiday.These villas are all right on the beach. Feel the sand, listen to the waves... start to relax.
Located right on the beach in Canggu, Arnalaya Beach House is a 5-bedroom designer masterpiece offering outstanding ocean views, state-of-the-art facilities including swimming pool, international-standard tennis court, spa and gym, lashings of lounge space, mature gardens and a full complement of professional staff including butlers and a private chef.

Min Rate

USD 2,600

Max Rate

USD 4,000
Our rating

9.0

Guest rating

9.0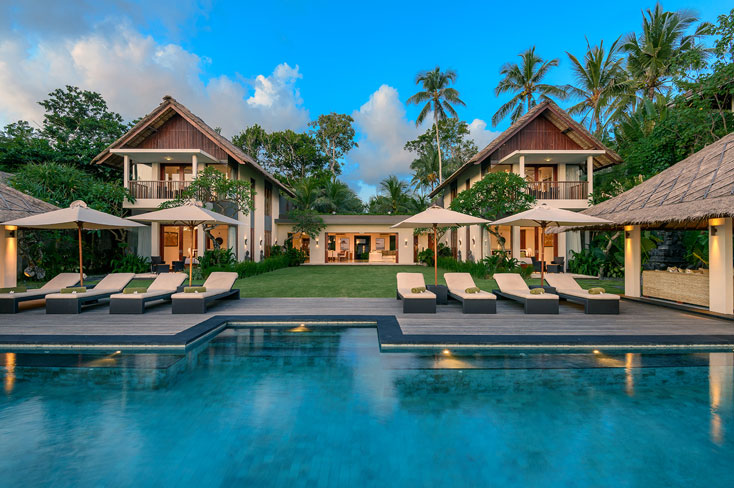 Metres from the mighty waves and glittering sands of Bali's south-west coast, 5-bedroom Seseh Beach Villa makes a glorious holiday destination and a spectacular wedding venue.  Overflowing with style and charm, this out-of-the-way villa captures the spirit of Bali, while friendly staff, including an excellent chef, tend to creature comforts.
Min Rate

USD 1,350

Max Rate

USD 2,100
Our rating

8.0

Guest rating

8.0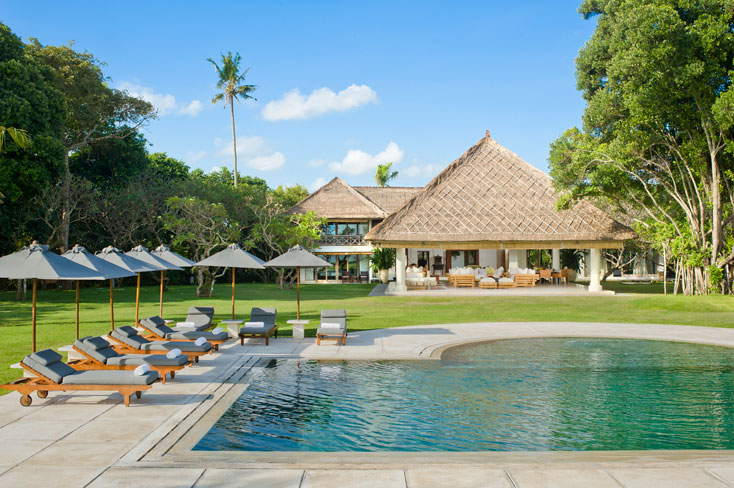 A true Bali classic, Villa Atas Ombak rests within a magnificent beachfront garden- the perfect wedding venue. Close to beach clubs and nightlife, its awe-inspiring ocean and sunset views and five spacious bedrooms ensure it's a hit with young groups. Expect total privacy, despite a team of professional staff at your service.
Min Rate

USD 2,210

Max Rate

USD 4,000
Our rating

8.0

Guest rating

9.0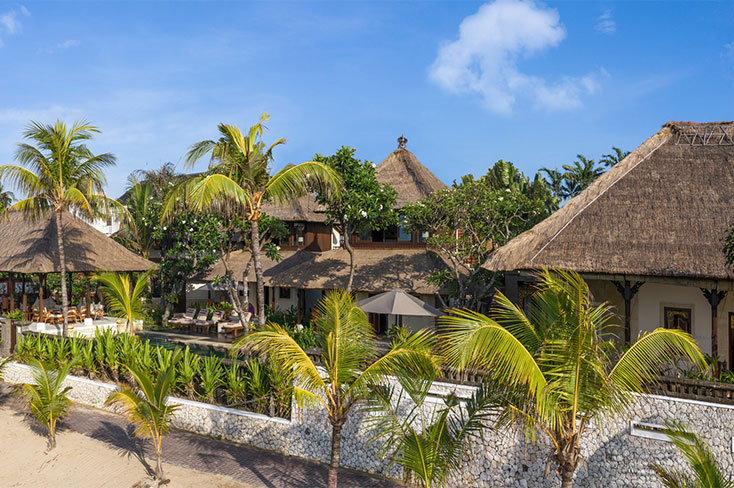 Five-bedroom traditional Bali-style Villa Cemara has 'wow factor' in spades.  With a 60-metre frontage onto a safe swimming beach in Sanur, spectacular ocean views, gorgeous living pavilion, 10-metre pool, private access onto the beach, and nine staff including an inventive chef to look after you, Cemara is a perfect Bali villa.
Min Rate

USD 1,160

Max Rate

USD 1,980
Our rating

8.0

Guest rating

8.0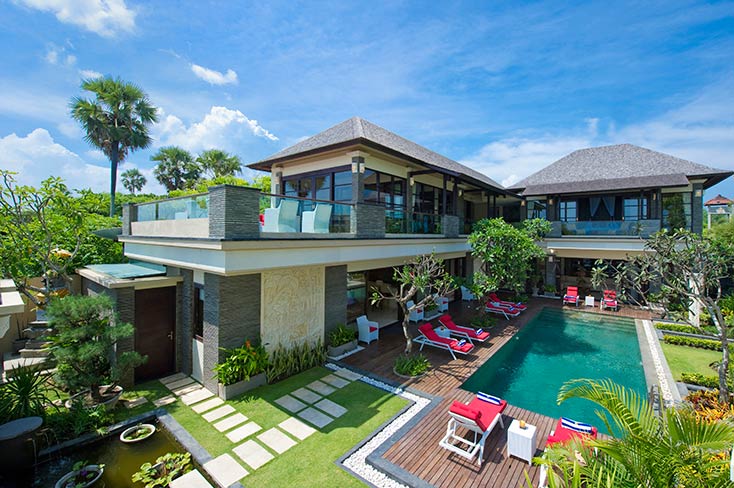 Villa LeGa is a centrally located beachfront villa on Batubelig Beach. Boasting five bedrooms, this contemporary villa is beautifully furnished and comes with a 12-metre swimming pool set in landscaped walled gardens, an open-plan living area and feature kitchen, plus an excellent team of staff.
Min Rate

USD 990

Max Rate

USD 1,780
Our rating

8.0

Guest rating

9.0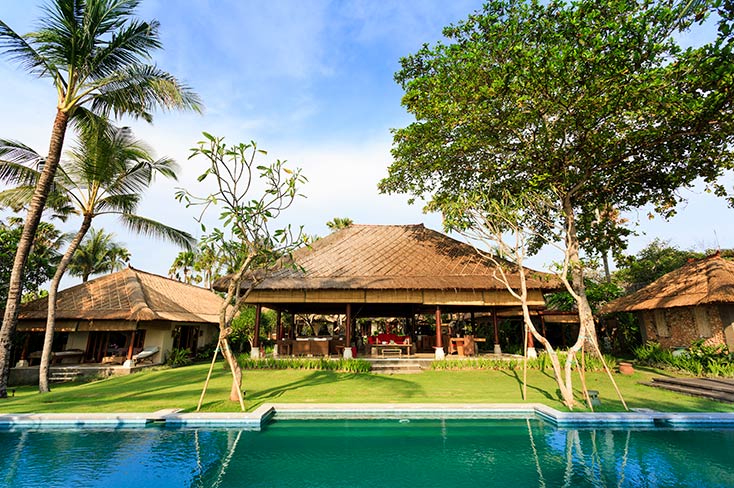 Five-bedroomed Villa Maridadi is virtually a private resort set in sprawling gardens with manicured lawns and ocean vistas. Perfect for families, groups, or as an executive escape, all will enjoy the ability to socialise or have their own space whilst being expertly taken care of by the smiling villa staff.
Min Rate

USD 620

Max Rate

USD 1,290
Our rating

8.0

Guest rating

9.0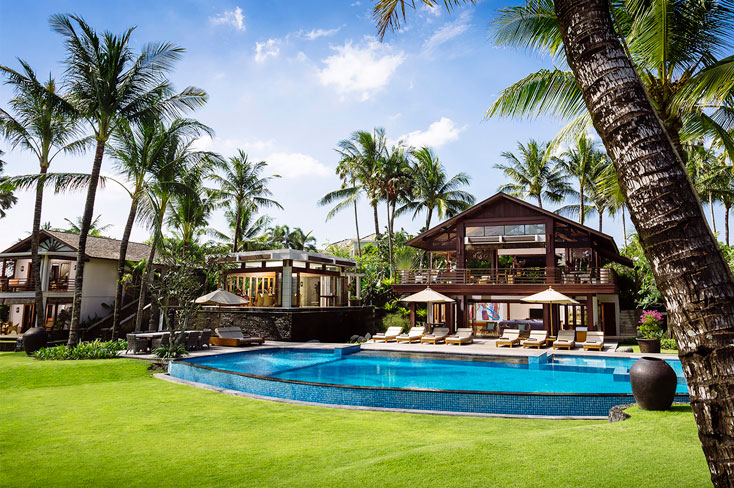 Well-appointed guestrooms, great staff team, spacious tropical garden and fabulous swimming pool, plenty of living space plus a sociable bar make this villa one to remember. Located opposite a sea temple on a quiet stretch of picturesque Bali coastline, 5-bedroom Semarapura is an excellent away-from-it-all choice for families and friends.
Min Rate

USD 1,250

Max Rate

USD 2,190
Our rating

9.0

Guest rating

9.0